Hey! It's Broken. Let's Fix It!
Disrupting extreme poverty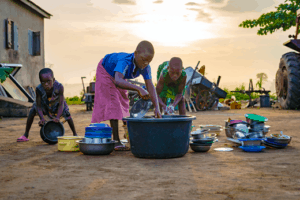 FOR RELEASE December 2, 2019
NEW YORK, NY – A volunteer organization uses creative impatience. Their goal? To help millions in need lift themselves from extreme poverty. Sooner.
Why?
Good isn't good enough
Despite hundreds of billions of dollars in foreign aid1 and almost as much given to international charities,2 a child dies from poverty-related causes every five seconds – 6.2 million children every year.3
Sub-Saharan Africa has 122 million more people in extreme poverty than in 1990.4
Every day, 820 million people go hungry, 5 million more in the last two years!4
Many nonprofits do good work. Few reach their full potential. They:
Only help a limited number of people in limited ways.
Continue to support billions in aid directly to poorly managed governments.
Could improve their work with new innovations.
"We can do better," says Bill Blackman, founder, president and a full-time volunteer at Hearts and Minds. Blackman has 38 years of experience in marketing, communications, nonprofit and business management.
Hearts and Minds advocates a unique mix of tested methods to solve extreme poverty. These include more aid directly to those who need it most, microfinance, innovative products and technologies that boost earnings, sustainability and accountability.
Their achievable platform aims to combat extreme global poverty with unparalleled efficiency and impact.
This virtually all-volunteer organization has an empowering slogan:
Together we will change the world!℠
Empowering everyone
The Hearts and Minds website is a clear, practical guide to world poverty and sustainable solutions. Best of all, the Hearts and Minds website shows how each of us can help.
Ambitious
"For thousands of years slavery, child labor, and the denial of womens' rights were acceptable – until they weren't," says Blackman. "Similarly, our goal is making it unacceptable that hundreds of millions of people go hungry while all the resources and methods to end extreme poverty are already available.
A bigger impact
Today, Hearts and Minds is going directly to the American people with a crowdfunding campaign to expand their public education and grassroots advocacy. They work to reform tens of billions in foreign aid – more funds than given to all international charities combined2 – and for trade and foreign policies that that can add hundreds of billions of prosperity – for both the world's poorest and us.
Small actions spark big change. Even the smallest steps move things in the right direction. Sign up today at Hearts and Minds Crowdfunding web pages.
For more information on Hearts and Minds or Bill Blackman, please visit heartsandminds.org/about-us or call Bill at: 212-280-0333.
Contact:
Bill Blackman, Founder & President
Hearts and Minds
134 West 29th Street, Suite 810
New York, NY 10001
Phone: 1-212-280-0333
Cell: 1-917-428-1061
E-mail: [email protected]
Website: www.heartsandminds.org
Sources:
1Quora
2Charity Navigator
3 World Health Organization (WHO), 2018
4Calculation for 2015, latest available from World Bank sources a, b and c.
5FAO

###